HyCC has selected the engineering partner and technology supplier for its green hydrogen project H2eron in Delfzijl, The Netherlands. The 40 MW plant is expected to deliver the first hydrogen in 2026 to support the production of sustainable aviation fuels.
Front-End Engineering Design (FEED)
Kraftanlagen Energies & Services was contracted by the Netherlands-based HyCC (the Hydrogen Chemistry Company) to provide front-end engineering design (FEED) for the 40 MW plant, which will produce green hydrogen from renewable electricity and water using NEL's atmospheric alkaline electrolysis technology. H2eron will be the first plant to apply the technology at this scale.
Second significant hydrogen project
The contract for Kraftanlagen Energies & Services includes basic engineering for the entire plant and costing for the client's investment decision. Through the cooperation of its Energy and Industry business units, Kraftanlagen combines competences in the fields of hydrogen, EPC projects and chemical industry. This second significant H2 order in one year – following a 5 MW plant with the same technology currently being built in Pfeffenhausen by Kraftanlagen as general contractor – is the logical next step for the company towards a new scale of hydrogen production plants.
The hydrogen produced in Delfzijl will be used by SkyNRG to produce sustainable aviation fuel (SAF), made from waste and residue streams, such as used cooking oil. In its pure form, the use of SAF results in 85% lower carbon emissions compared to fossil jet fuel, across its lifecycle.
Marcel Galjee, Managing Director of HyCC:
"Reliable supplies of green hydrogen are essential to decarbonising sectors such as the aviation industry. We build on decades of experience in large-scale electrolysis and are excited to move to the project's next phase with these strong partners to lay the foundation for the new hydrogen economy."
Alfons Weber, (CEO Kraftanlagen Energies & Services):
"We are proud to bring our proven EPC expertise to this lighthouse project. This project will significantly support the decarbonization of the aviation industry. It is important that large-scale green hydrogen production plants now become reality. H2eron will provide for more sustainable aviation. At Kraftanlagen, we are committed to bringing these projects to execution and making green hydrogen available."
"H2eron will have a great positive impact on emission reductions from the aviation sector, and we are proud to be selected as the supplier of our well-proven electrolyser technology to this exciting and important project", says Hans Hide, Nel's Chief Project Officer. "We are also excited to work with Kraftanlagen on this project, a professional EPC company. This allows Nel to focus on its core scope while still bringing a competitive solution for the hydrogen production system to the customer."
HyCC recently received environmental clearance for the project and the company is working in close coordination with SkyNRG and its partners towards the final investment decision in 2024.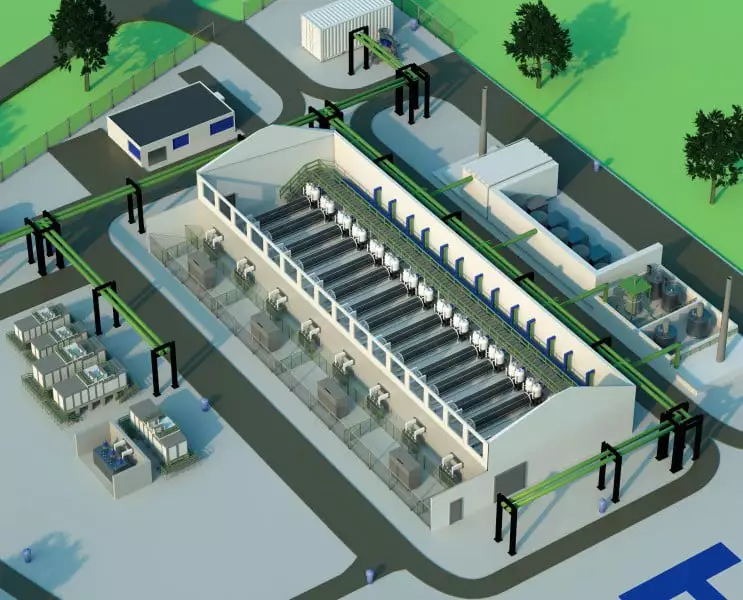 The future H2eron green hydrogen factory at Delfzijl (Image: HyCC)