Groundbreaking ceremony for the expansion of the GuD2 power plant of InfraLeuna
Leuna, 01.07.2020. "Today's groundbreaking ceremony for the expansion and modernisation of our GuD2 power plant shows that we are continuing to strengthen the leading position of our Leuna chemical complex with regard to the flexibility and competitiveness of our energy system. The construction of the power plant is also the single biggest investment of InfraLeuna since the chemical complex was restructured", emphasised Dr. Christof Günther, managing director of the InfraLeuna GmbH at the construction site of the GuD2 gas and steam turbine power plant.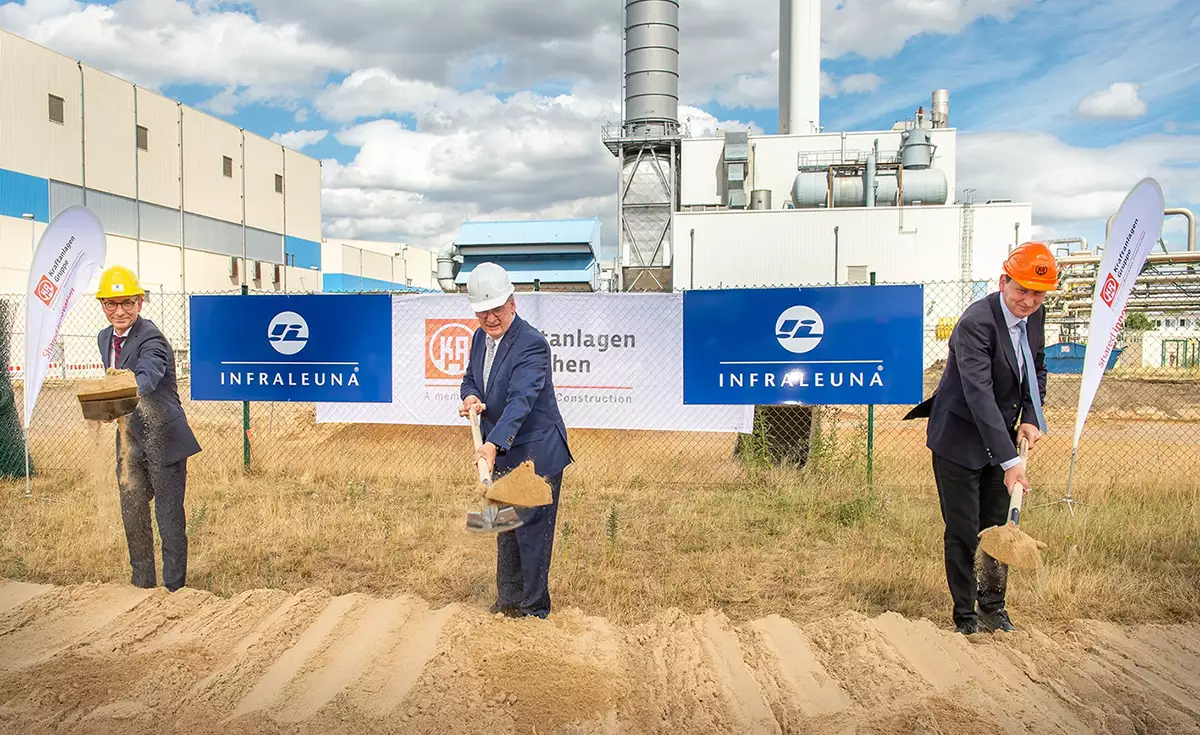 Groundbreaking ceremony for the expansion and modernisation of InfraLeuna's CCGT2 power plant: (from left to right) Dr. Christof Günther, Managing Director of InfraLeuna GmbH, Prime Minister of Saxony-Anhalt Dr. Reiner Haseloff and Stéphane Stoll, CEO of Kraftanlagen München GmbH.
Together with Dr. Reiner Haseloff, the Minister President of the state of Saxony-Anhalt, and Stéphane Stoll, Chairman of the General Management of Kraftanlagen München GmbH, he ceremoniously broke ground on 1 July 2020 for the construction of another gas turbine, a steam turbine, a heat recovery steam generator and the necessary peripheral installations at the GuD2.
Minister President Dr. Reiner Haseloff welcomed the investment: "Secure and affordable power generation is essential for a continued successful site development. That is why this investment instils trust in the existing companies and increases the chances that the complex will attract additional businesses. The project is further evidence of the forward-looking planning of InfraLeuna GmbH".
The modernisation of the existing power plant creates a cutting-edge gas and steam turbine plant with an improved capacity, and it raises the bar with regard to efficiency and flexibility. This investment of InfraLeuna, which totals approx. €145 million, not only secures the existing jobs at the Leuna chemical complex but also lays the groundwork for future growth.
Kraftanlagen München GmbH was commissioned with the project engineering, construction and commissioning. Kraftanlagen CEO Stéphane Stoll emphasised: "The InfraLeuna order is another milestone for the Kraftanlagen Group and the energy transition. It allows us to apply our know-how to the engineering and construction of efficient, readily controllable power plants with combined heat and power generation as well as their integration into existing power plants".
The GuD2 modernisation allows InfraLeuna to improve and supplement its comprehensive energy concept once again in order to supply the local companies in Leuna with competitively priced electricity and steam in a manner that is efficient and environmentally friendly.
Technical data of the new combined-cycle power plant:
Electrical net total power: up to 117 MW

Maximum process steam quantity: up to 190 t/h

Fuel utilisation rate: 84%