Kraftanlagen Energies & Services is general contractor for the 5 MW hydrogen production plant.
Planned completion of the largest plant in the Munich metropolitan region in the 2nd half of 2023.
Green hydrogen to be used for regional public transport.
Groundbreaking ceremony for a key project of the energy transition
Hy2B Wasserstoff GmbH, the operating company for green hydrogen production in the HyBayern HyPerformer model region funded by the Federal Ministry of Digital Affairs and Transport (BMDV), yesterday has given the go-ahead for the construction of the buildings and outdoor facilities for the first five-megawatt electrolyser in the Munich Metropolitan Region on the site of the future hydrogen centre in Pfeffenhausen in the presence of Minister President Markus Söder, Minister of State Hubert Aiwanger and representatives of the BMDV. Kraftanlagen Energies & Services GmbH has been commissioned as the general contractor for the construction of the plant, including the electrolyser, compressor and filling station, the electrical supply and the necessary ancillary facilities.
Rapid promotion of green mobility
The assembly of the electrolyser and the plant technology is scheduled to start at the beginning of 2023. The start of commissioning is planned for the second quarter of 2023 and commercial operation is to begin in the second half of 2023. From then on, 440 tonnes of green hydrogen will be produced annually in Pfeffenhausen and, after expansion to maximum capacity, up to 1000 tonnes for the regional bus services of the Munich Transport Association, the neighbouring Hydrogen Centre, existing and new hydrogen filling stations in the Munich metropolitan region and other customers in Bavaria. With its local green hydrogen production, the large-scale electrolyser makes a contribution to energy security, the accelerated expansion of regional renewable power generation and the achievement of climate targets in equal measure.
Alfons Weber, CEO Kraftanlagen Energies & Services GmbH, says: "We are delighted that the groundbreaking ceremony marks the start of the practical implementation of this Bavarian project of the future and that we can now contribute our hydrogen expertise here as general contractor for the power-to-gas plant. With this project, we are setting a milestone towards a sustainable energy transition together with our customer Hy2B. It is important that large-scale hydrogen projects get off the ground in concrete terms now, because hydrogen is the medium that can be produced and stored with renewable energies."
Proven electrolysis technology
Kraftanlagen, together with Hy2B Hydrogen, selected an alkaline electrolyser from NEL for the plant in Pfeffenhausen. With the Norwegian manufacturer NEL, Kraftanlagen has thus entrusted a long-standing partner with the key component of the hydrogen production plant. The plant concept, pipeline planning, installation, process engineering and commissioning are the responsibility of Kraftanlagen's P2G Group.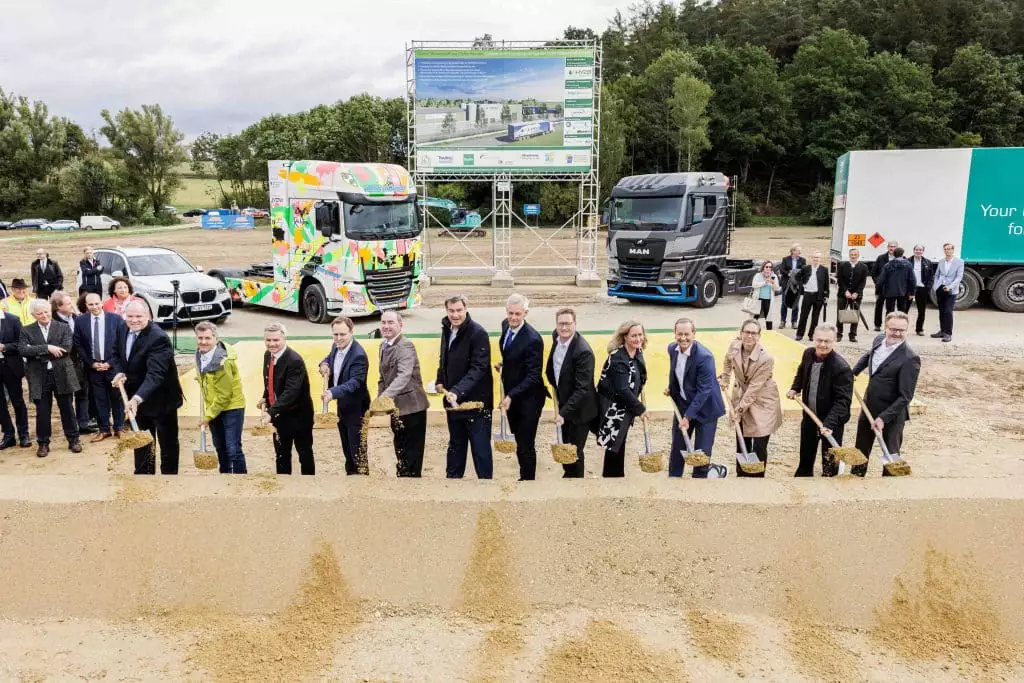 Groundbreaking ceremony on 15 September 2022 with Bavarian Minister-President Dr Markus Söder (6th from left) and Minister of State for Economic Affairs, Regional Development and Energy Hubert Aiwanger (5th from left). (Image: Hy2B Wasserstoff GmbH).