Plant shines in trial operation with total availability of over 99%.
Ideal supplement to renewable energies and essential contribution to securing the power supply and grid stability in Northern Germany.
Planning and implementation by the general contractor Kraftanlagen München GmbH.
Kiel, 29.11.2019. The general contractor Kraftanlagen München GmbH (KAM) yesterday handed over the turnkey coastal power plant in Kiel to the customer Stadtwerke Kiel. The twenty-day final test phase of the gas engine cogeneration plant on the Kiel Fjord ended on Sunday. During the trial operation, the combined heat and power plant demonstrated its reliability with a total availability of over 99% for a wide range of operating requirements.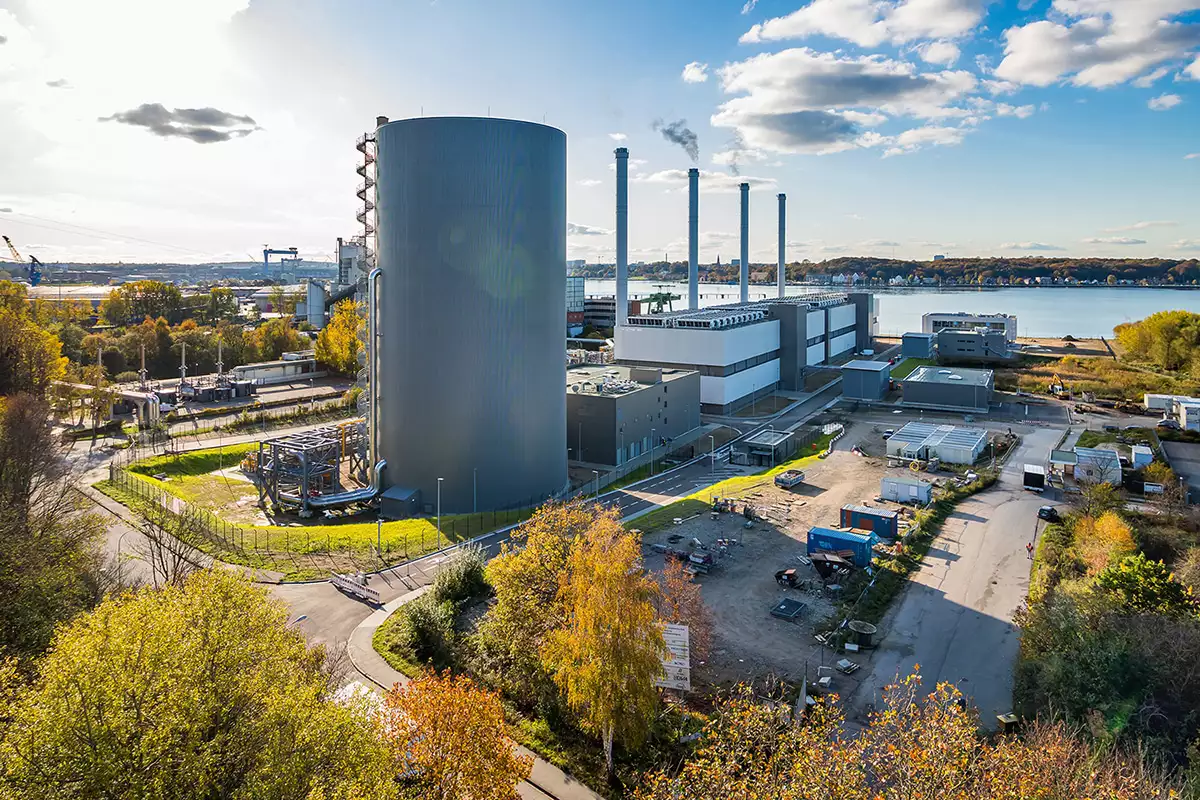 Coastal power plant Kiel (Bild: Stadtwerke Kiel AG).
The Kiel coastal power plant makes an important contribution to the energy transition and sets new standards in terms of flexibility, efficiency and ecological sustainability due to the generation concept with gas engines, heat accumulators and electrode boilers.
As general contractor, KAM was responsible for the planning, approval, supply, construction and commissioning of the power plant with its 20 gas engines and a total output of 190 MW electric and 192 MW thermal, with all ancillary equipment, including the auxiliary building, the integration of the heat accumulator and the electrode boiler.
In future, this power plant will supply more than 73,000 households and facilities with climate-friendly district heating. In addition, the electrical energy generated will be fed into the Kiel grid, which supplies both the households in the state capital and the surrounding communities with electricity. Excess energy is fed into the upstream power grid. he flexibility of the combined heat and power plant is enhanced by a 60 metre high heat storage unit (30,000 m3 storage volume) and a powerful 35 MW electrode boiler (power-to-heat technology). Due to the high overall efficiency and the advantageous environmental properties of natural gas as an energy source, the new plant will emit more than 70% less CO2 than its coal-fired predecessor.
Stéphane Stoll, CEO of the Kraftanlagen Group, says: "As general contractor, we have once again demonstrated with this project what expertise and potential we have. It takes courage to get involved in a project like this and to break new ground. In Kiel, everyone involved has done pioneering work in recent years. The coastal power plant is a lighthouse project of the energy and heat transition. We are proud to have realized the most modern, largest and most flexible gas engine combined heat and power plant in Europe together with Stadtwerke Kiel and the solutions provider for gas engines Innio Jenbacher".
On January 16, 2020, an official inauguration will take place at the coastal power plant with the participation of the Minister President of Schleswig-Holstein and the Lord Mayor of Kiel.